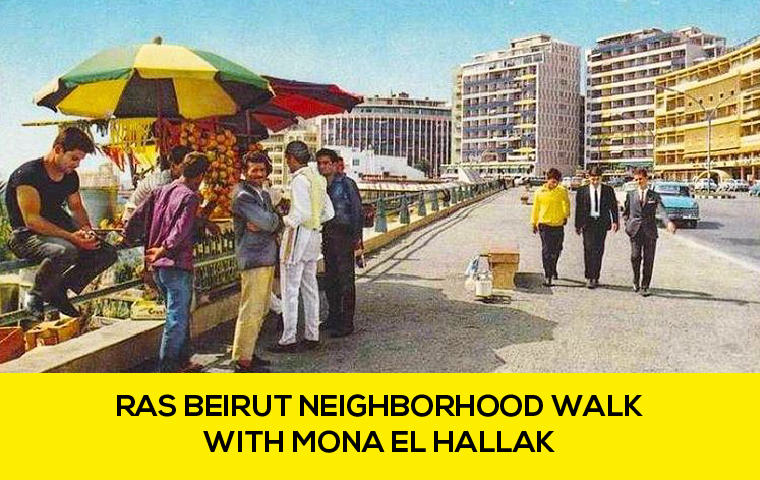 RAS BEIRUT NEIGHBORHOOD WALK
WITH MONA EL HALLAK
TUESDAY, JULY 2, 2019
4:00 - 6:00 PM
Walk with Mona El Hallak from Jeanne D'Arc street to the Ain Mreisseh Fishermen's port with a visit to Le Souffleur Museum 
Curated by the AUB Neighborhood Initiative
.
Mona El Hallak is a Beirut-based architect and heritage preservation activist, a graduate of the American University of Beirut (AUB) and Syracuse University – Florence Program.  In January 2017, she joined AUB as the director of the Neighborhood Initiative that aims to mobilize the full power of AUB for the public good in Ras Beirut, promoting the neighborhood's livability, vitality, and diversity through research and outreach activities. She led several heritage preservation campaigns and succeeded in saving the Barakat Building—now Beit Beirut, a museum of memory and a cultural and urban center for the city. In 2013, she was given the Ordre National du Mérite au grade de Chevalier from the President of the French Republic, in recognition of her work and achievements in preserving the architectural and cultural heritage of Beirut.


RAS BEIRUT NEIGHBORHOOD WALK 

Ras Beirut, our neighborhood, is known for its diversity and vitality, two characteristics that the AUB Neighborhood Initiative aims to promote and protect through innovative outreach activities and interdisciplinary research.
In Ras Beirut, contradictions reign supreme. Behind the modern luxurious towers, we can still walk in hidden alleys and discover beautiful village-like areas with old houses and wild gardens. Next to the security guards at the entrance of a new building, we can still find people who will invite you - even a total stranger - to join them for a cup of coffee and a game of backgammon. The deafening noise of the electricity generators, the horrible traffic, and the eternally honking cars are offset by birdsong.  Fragrant jasmine, orange blossom and bougainvillea bloom in the scattered gardens, often belonging to heritage buildings threatened by demolition due to real estate speculation. Alongside supermarket chains, we can still find family businesses established by great grandfathers in shops that bear witness to times gone by. In Ras Beirut, we can come across unforgettable characters and unexpected stories that make our neighborhood a very special place.
Love Thy Neighbor is a popular phrase that still reverberates in the alleyways of Ras Beirut despite its rapid urbanization and ongoing gentrification. Join us for this walk and you will always find people who will receive you with a smile and go out of their way to help you. Ahlan wa sahlan!
Meeting Point: Librairie Antoine, Hamra Street