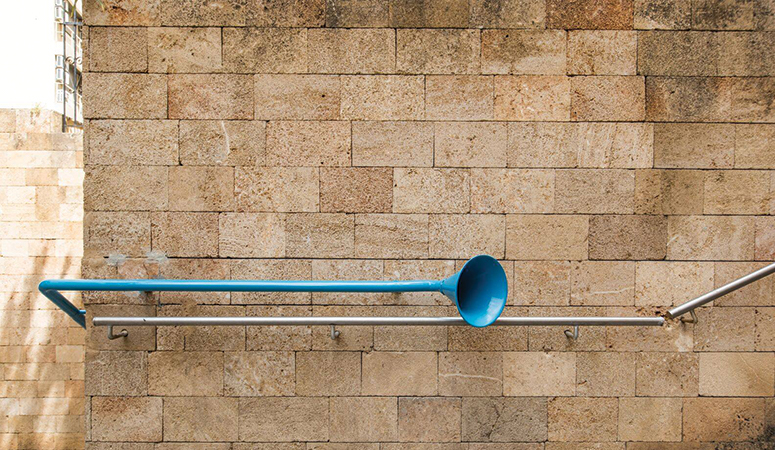 Le Souffleur by District D
Public Intervention
Ain El Mreisseh Beirut, Lebanon

+961 76 794 871
district-d@outlook.com


Design by district d
Sound Composition: Budhaditya Chattopadhyay and Nadim Mishlawi
An Urban Intervention on the Ain el Mreisseh stairs 
Curated by the AUB Neighborhood Initiative

District d is a Beirut-based collaborative founded by a multidisciplinary team of urbanists, designers, and architects primarily devoted to designing and implementing "tactical" interventions that would foster and improve the socio-spatial quality of life in the city. District d was conceived in 2017 on the foundation of activating open spaces within the city and creating new platforms for social interaction, through specific targeted urban interventions, also known as "tactical urbanism".
Budhaditya Chattopadhyay is an Indian-born media artist and researcher, with a PhD from Leiden University, The Netherlands. He is currently a Mellon Postdoctoral Fellow at the Center for Arts and Humanities, American University of Beirut. Focusing on sound as primary medium, Chattopadhyay produces works for large installation and live performance.
Nadim Mishlawi is a Lebanese filmmaker and composer, born in Beirut in 1980. He started studying music at the age of 10 and majored in Fine Arts at the Holy Spirit University in Kaslik. He earned a Master's degree in cinematographic studies in 2005. Mishlawi has worked as a composer on several documentaries and feature films.

Le Souffleur
An urban acoustic intervention that aims to reactivate the Ain El Mreisseh Stairs as a public space in the city. The project is inspired from Ibrahim Najem's story, the fisherman who yearned to bring the stories of the sea to Ras Beirut by collecting throughout the years submarine wreckage and sea marvels and showing them in his house. Le Souffleur manifests itself through two main schemes:
A replica of Ibrahim Najem's gramophone with a sound composition aiming to reconnect this part of the city to the sea through sound. The sound work is composed of underwater recordings of the Mediterranean sea in a conversation with real-time sounds live-streamed from the Fishermen's port of Ain el Mreisseh. The aim is to relive the sea and invite the people to experiene iits imaginary presence through this dynamic interaction between sounds,past and present.A network of tele-pipelines that people and especially children can use to talk to each other, bridging sound along different levels, connecting people while adding an element of play and a sensory dimension to the Ain El Mreisseh stairs.

From date
02/07/2019 16:00:00
To date
02/07/2019 20:00:00