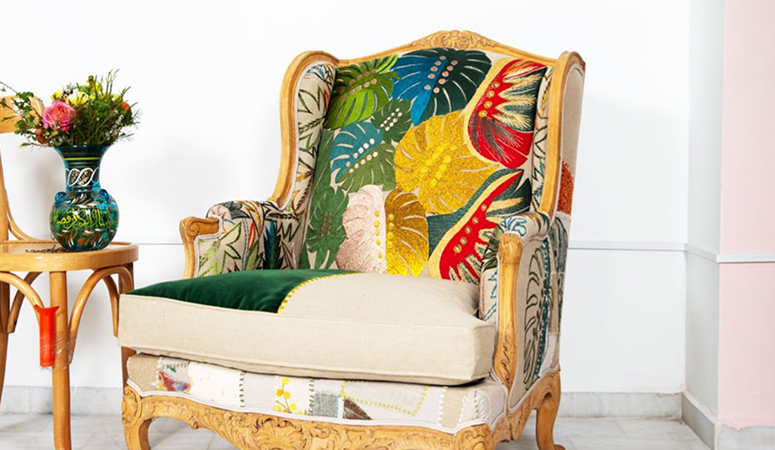 Coming Home by Bokja
Exhibiton
Bokja, Beirut, Mar Maroun Street

Nostalgia is generally defined as the state of being home-sick. We long for our homes when we are away from them. Bokja explores how we build new homes when the old ones are no longer accessible. For Beirut Design Week, Bokja partners with Habitat for Humanity, in a year-long project beautifying the new or improved homes of the families-in-need. Habitat for Humanity is a nonprofit organization that helps people in your community and around the world build or improve a place they can call home. In Lebanon alone, HFH has assisted over 4600 families in transforming their war-damaged, decrepit, incomplete or otherwise inadequate shelter into healthy, dignified homes where they can feel secure and satisfied. Since its inception in the year 2000, Bokja has grown into a successful multi-level design studio building the story of Beirut's numerous co-existing cultures through their famous assemblage fabric, establishing itself as a disruptive and innovative brand, breaking down barriers and weaving human connections. Through its work, Bokja seeks to start conversations about contemporary issues, helping people listen, debate, learn and find a place of commonality and peace. Both agencies have the same focus: homes. For 'Coming Home' Bokja developed a series of Embroidered Dining Chairs of which the profits will go to the interior painting of the homes of families under HfH's jurisdiction. A signature swatch book is offered to the selected families for them to select what color(s) they'd like to inundate their spaces with, promoting dignity, hope and creativity one home at a time.

COMING HOME
The process of making a home is personal and ever-changing. For BDW'19 we collaborate with Habitat for Humanity, launching a project to help families-in-need to personalize and beautify their homes.
From date
02/07/2019 18:00:00
To date
02/07/2019 22:00:00