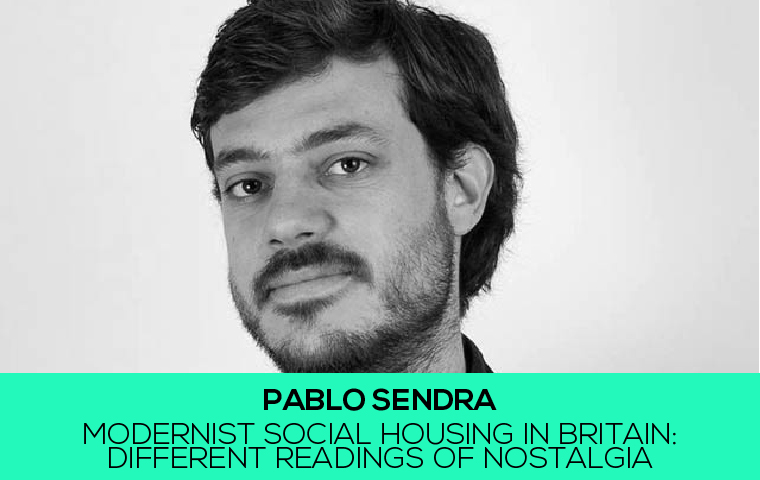 MODERNIST SOCIAL HOUSING IN BRITAIN
BY PABLO SENDRA
THURSDAY, JULY 4, 2019
7:00 - 7:45 PM
AT STARCO
Different readings of nostalgia to advocate for their disappearance, for their fetishization, for social justice, or for calling them home.
Modernist architecture was the flagship style of the post-war reconstruction of Britain after World War II. The country had suffered from the War and wanted to implement an ambitious welfare program, which would provide egalitarian access to housing, health, and education. The 1950s propaganda posters used modernist architecture to explain the welfare state project. The National Health Service (NHS) was established and hundreds of thousands of social housing were built. Relevant modernist architects such as Berthold Lubetkin were highly involved in the construction of this public architecture. The collapse of Ronan Point in 1969 was considered by some as the confirmation of the failure of the modernist architecture in Britain. Today, half a century after the end of the modernist dream, this architectural style is used to evoke different discourses. Firstly, certain political and architectural discourses see the Victorian past of Britain with nostalgia and claim for a vernacular style of streets with terraced housing, which modernist architecture had destroyed in the mid-20th century. While in certain cases this claim advocate for neighborhoods with more life in the streets, in most of the cases this discourse is being used for the mass demolition of social housing, causing the displacement of the residents. A second approach to modernist social housing, which has emerged very recently, is a new trend for Brutalist architecture, which has resulted in some of the most iconic Brutalist tower blocks to be turned into luxury apartments, again causing the displacement of the residents. The third kind of nostalgia associated to modernist social housing, which has been used by some architectural theorists, critical urbanists, writers and filmmakers, is the association of this architectural style to a time when the British government invested in public housing, health, and education, in opposition to the current situation of austerity. Finally, people that have lived in these neighborhoods for decades see these places as their homes and associate particular features of the modernist style to memories from their childhood, their youth and past experiences in their neighborhoods. The demolition of these neighborhoods creates a deep sense of loss of memories. The talk reflects the different forms of nostalgia that modernist social housing evokes, and how these different approaches interact and get in conflict.
Pablo Sendra is Lecturer in Planning and Urban Design at The Bartlett School of Planning, University College London (UCL). He combines his academic career with professional practice in urban design. He is co-founder and director of the urban design practice Lugadero, which has recently run a co-design process for two public spaces in Wimbledon, London, UK. He is also co-founder of Civicwise, a network that works on civic engagement and collaborative urbanism. His main areas of research interest are social housing neighborhoods and collaborative processes for planning and designing public spaces. He studies the impact that regeneration processes have on people's relationships and looks at design strategies that encourage unplanned activities and sociability in the public realm. He has developed action research projects and radical teaching in collaboration with community groups and activists in London. At UCL, he is the Director of the MSc in Urban Design and City Planning program, the coordinator of the Civic Design CPD Course and the Deputy Leader of the Urban Design Research Group.