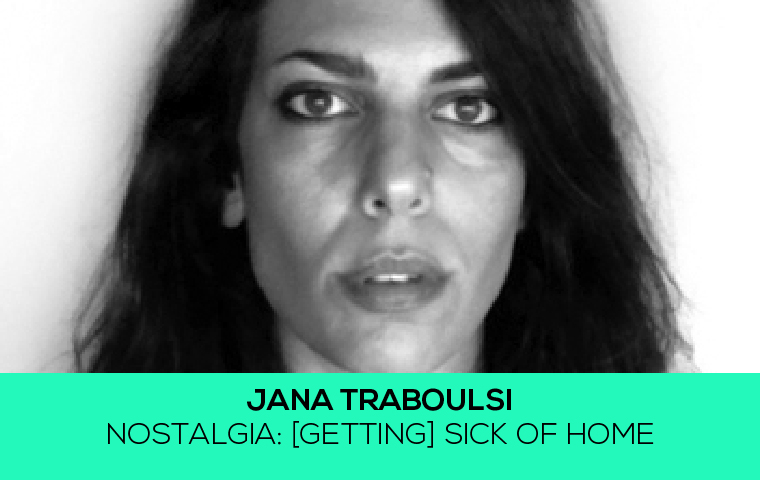 NOSTALGIA: [GETTING] SICK OF HOME
BY JANA TRABOULSI
FRIDAY, JULY 5, 2019

3:00 - 3:45 PM
AT STARCO
Is our nostalgia a sign of our incapacity to imagine a hopeful future? to accept a deceiving present? Is the nostalgic a form of conservatism, of resistance, or a trend?
In this paper, I will be reflecting on the place of nostalgia within graphic design practice. Starting with a critique of my own work, I am interested first in locating what moments of history are those we have nostalgia for, and second, to look at what design choices express this nostalgic fascination (aesthetics, tools, techniques, etc.). At the core of this refection is a concern for the contemporary role of designers, and the imaginaries they produce, within our society.
Jana Traboulsi is a visual artist, graphic designer and illustrator. She holds a BFA in Graphic design from the American University of Beirut, and an MA in Media and Communication Studies from Goldsmiths College, London. She is the co-founder and art director of Bidayat pan-arab quarterly, and the art director of Snoubar Bayrout publishing house. In 2014, she has co-founded the art collective Sigil. Their work has been exhibited in Venice, Milan, Marrakesh, and Beirut. Since 2004, she teaches design and illustration studios and lectures in history and theory, in Lebanon and abroad. Her works explores methods of visual research, and the relation text-image at the service of critical commentary, often bridging between the personal and the socio-political.