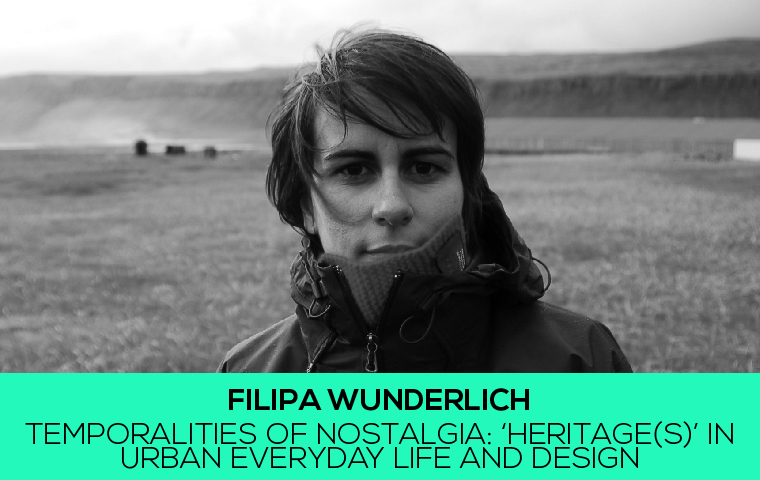 TEMPORALITIES OF NOSTALGIA: 'HERITAGE(S)' IN URBAN EVERYDAY LIFE AND DESIGN
BY FILIPA WUNDERLICH
SATURDAY, JULY 6, 2019
6:00 - 6:45 PM
AT STARCO
Cities are temporal hubs of activity and affect. Places are constellations of everyday life rhythms, which through movement, events, practices, and its memories, trace and represent meaningful pasts. These particular place-rhythms are performed and valued collectively, and as such, shape cultural and social identities of place.
This presentation will focus on an alternative definition of urban place heritage(s), from the perspective of time and everyday life. It does that by focusing on how 'cultural identities of place' are shaped by rhythmic assemblages of festivals, events, social and community practices, and its memory. It argues that these temporalities form meaningful 'cultures of place' that are worth preserving, and that should be considered in the design process of places and cities overall. 
From this perspective, the focus will be how unique 'temporal cultural identities of places', can be looked at traces of affective urban pasts, either collective valued (of nostalgia), or representations of political and cultural conflicts; and, how 'temporalities and rhythms of nostalgia' may be designed for (enhanced or diluted) with unique forms of urban place-design and place-making processes. 
The focus will be on 'affective temporal heritage(s)', as indispensable tools in urban place design and catalyst for new and alternative forms of temporal placemaking processes.
Filipa Matos Wunderlich is a Lecturer in Urban Design and Programme Director of the MRes (Master of Research) in Interdisciplinary Urban Design at the Bartlett School, University College London (UCL). Filipa is also the coordinator of the MSc 'research by design' component - Major Research Projects module, in this school. Before engaging with academia she worked extensively as a chartered practitioner in architecture and urban design in the private sector in The Netherlands, namely at the internationally firm Kees Christiaanse Architects & Planners.  Filipa trained as an architect at FAUP, University of Porto, Portugal, and TUDelft, Faculty of Architecture, University of Delft, The Netherlands, and also as a musician in the Conservatorium of ArtEZ Institute of Arts, in Zwolle, The Netherlands, before completing her PhD at the Bartlett, UCL. Key research interests include temporality in urban places, urban rhythms and rhythm analysis, choreographies of place, placemaking through design, sensory urbanism, the interface between urbanism, design, performance and film studies, and the interface between musical and urban aesthetics, society and culture in sustainable urban design, the design and use of new urban space typologies in the contemporary city.