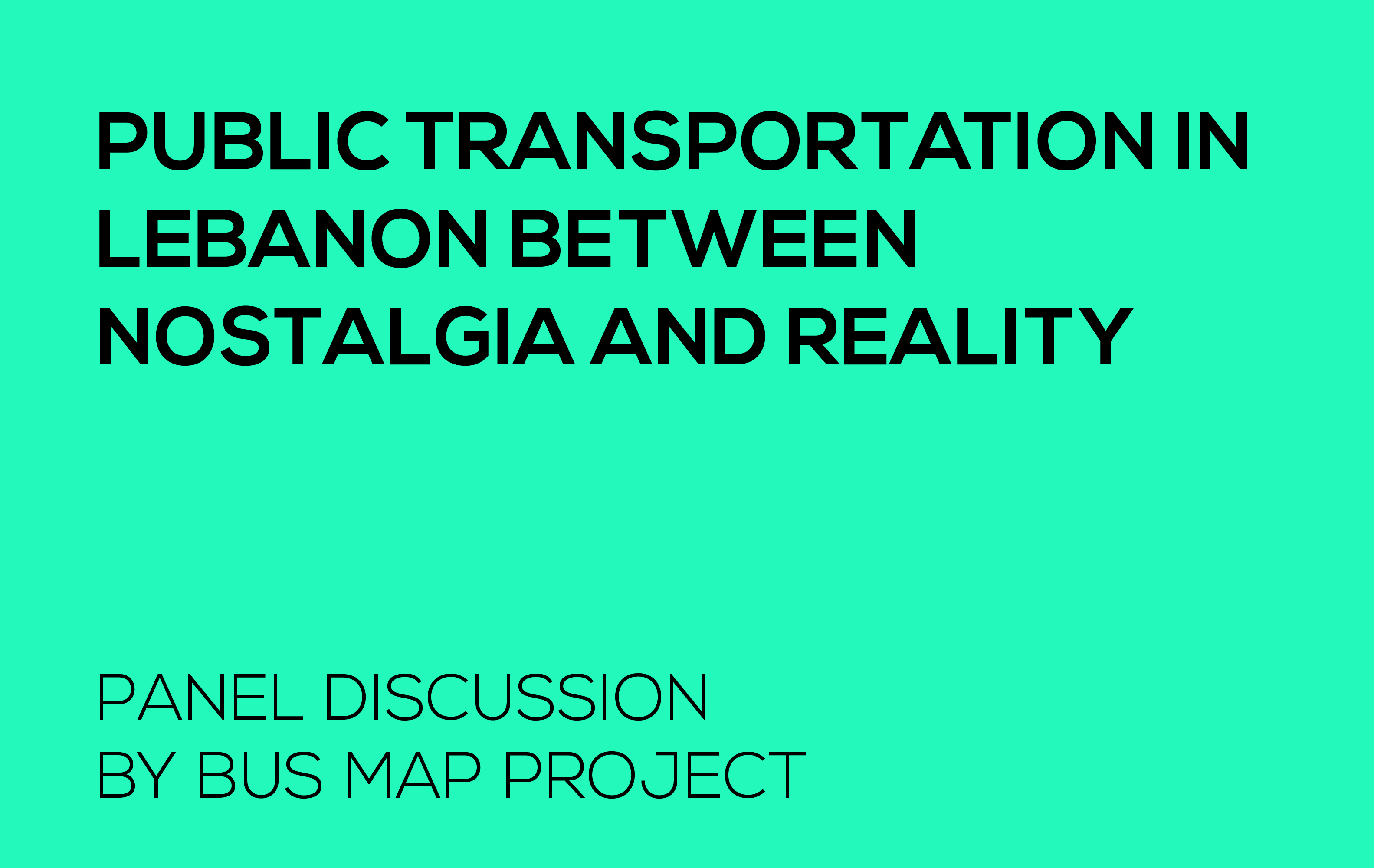 PUBLIC TRANSPORTATION IN LEBANON BETWEEN NOSTALGIA AND REALITY
BY BUS MAP PROJECT
THURSDAY, JULY 4, 2019
10:00 AM - 12:00 PM
AT STARCO
Join the discussion to learn more about the history of public transportation in Lebanon and what opportunities and challenges public transportation projects are facing today.
Train Train Lebanon (anthropological research and studies team) – (INSAN/HUMAN) and Riders' Rights Lebanon (Bus Map Project) will jointly lead the discussion and share how far they have reached with their respective projects.
President of Train Train Lebanon: History of trains in Lebanon 
Master's Degree in Anthropology from the Lebanese University, member and student assistant at GREA: Tramway history.
Co-founder of Bus Map Project: Beirut Bus System

'Bus Map Project' is an initiative seeking to map, promote and improve public transport in Lebanon, co-initiated and led by Chadi Faraj and Jad Baaklini. It is a mapping initiative aimed at visualizing existing bus and van routes in Lebanon to encourage people to choose alternative means of transport. BMP produced the first collective map for public transportation and created the first open platform for public transportation in Lebanon ( busmap.me ) It is a collaborative network aimed at building a community of transit enthusiasts by engaging a wide range of social and cultural actors, to get them involved in the sector. Soon, we will launch our Riders' Rights Association, a grassroots CSO working for mobility rights and mobility justice in Lebanon.
Train/Train is a Lebanese NGO: 1. Advocating for Lebanese railway rehabilitation 2. Advocating for Lebanese Railway Heritage preservation 3. Conducting studies and building models for the restoration of the Lebanese Railways 4. Awareness raising on the role of railways as a backbone for transport in Lebanon 5. Awareness raising on sustainable public transportation. 
ANTHROPOLOGICAL RESEARCH AND STUDIES TEAM
Anthropological Research and Studies Team – (INSAN/HUMAN) in the Lebanese University, Institute of Social Sciences - Branch I, Beirut-Lebanon. The idea of establishing the research team started from seeking the need and desire to interact and cooperate collectively, for the benefit of the academic training of the students in general and developing their research papers and theses, for their Master and PhD degrees. Accordingly, the team launched its first work by organizing periodic research workshops to present, discuss and correct students' research projects during the academic year 2009-2010.