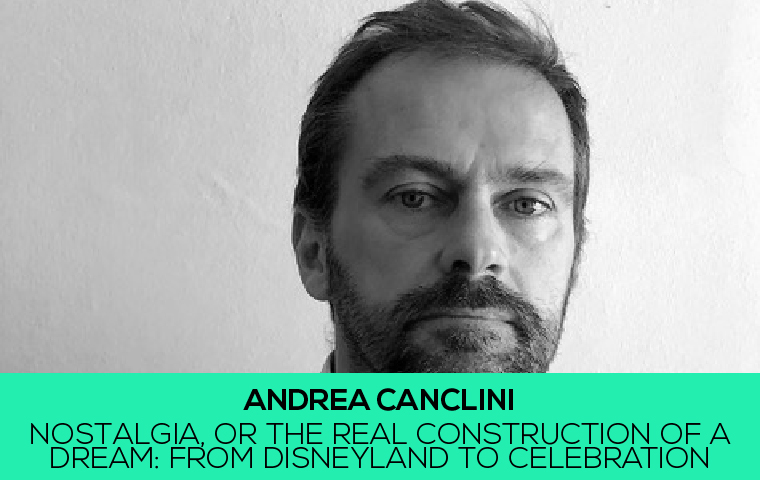 Andrea Canclini
Nostalgia, or the real construction of a dream: from Disneyland to Celebration.
FRIDAY, JULY 5, 2019

10:00 - 10:45 AM
AT STARCO
Many new towns in the USA are built according to precepts based on the nostalgic utopia of the American small town of the Thirties, in allusive reference to its social and communitarian contents. That archetypal models and the myth of an ideal past leave no chance for claims of originality, at ease in the confirmation of the symbolic dominance in which the memory, declined on the side of nostalgia, has both an operational role and an aesthetic function: who decides to live there realise the foundational myth of the society in which neo-traditionalism is experienced as emancipation: as a variant of the Borges cartographer, they cover the ground with the map of what they desire it to be.
Contextualism and historicism are the theoretical basis of the hypocrisy of this rhetorical stylistic pluralism passed off for freedom, where overly refined use of historicism is proposed as a reaction to the Modern compositional language that conceived the language itself as an incomplete and inadequate form of representation of reality. On the contrary, to be confident that a design language is clear, stable and unique, can lead to an ethical form of representation that includes social and communitarian results.
Andrea Canclini is a  Professor of Politecnico di Milano in Theory of Contemporary Architectural Design. He currently lives and works in Italy, participates in international conferences, publishes in Italy, Portugal, Turkey, China, England, Scotland, and Belgium articles, book chapters and conference proceedings of his main research topic: the cultural basis of architectural critic.